Information
Philosophy // Program // Levels // Team // Location // Material // FAQ // Huts // Kontakt
---
Philosophy
The goal is to provide you with knowledge and skills that will give you confidence and independence on your upcoming private high alpine tours.
This three-day course will allow you to close your knowledge gaps and should give you the necessary confidence to undertake your own high alpine tours.
Our courses are very practice oriented. If you want to learn complex rescue maneuvers by heart, you are in the wrong place. If you want to be relaxed in the mountains and learn the most important techniques, this is the right place!
On a high alpine tour you are on the move in different terrain. Whether on the rock, on the glacier or in the snow. You should be able to cope with any situation. In the first two days we will focus on the elements rock and glacier/firn. On the third day we put what we have learned into practice on an application tour.
Depending on the weather conditions we have to adapt the program…
Note on the program: Listed are different course contents that we can look at during the 3 days. The schedule depends on the weather and we have to be flexible. We try to give you as much as possible but focus on the most important aspects!
⇑ top

---
Program
Mountaineering Camp – Rock
After the approach to a suitable terrain (near an SAC hut), we do education on the rock. Whether you are already climbing or "just" hiking, there is something for everyone.
Duration: 1 day
Direction: Mountain guide IVBV
Climbing technique
Knot skills
Belay technique
Rope handling
Abseiling
Set up of belay stations
Mountaineering Camp – Glacier & Snow
On high alpine tours you are often on the glacier. This is a breathtaking landscape, but you should pay attention to some points to not mess up.
Roping on the glacier
Anchorages in firn and ice
Use of ice axe and crampons
Short application tour
"If something goes wrong"In the evening while having a beer or similar we will do a short theoretical training.
Tour planning
Map reading
Mountaineering Camp – Application Tour
Now we implement what we have learned and climb a peak together. Here you will be independent in rope teams and benefit from tips & tricks directly in the terrain. The focus is not on a difficult summit, but on independent thinking and doing.
Tour planning
Tactics on the way
When do I use where, which rope?
Glacier rope, short rope, micro pitches, pitches
Belay points
Summit success 😉
Descents and abseiling
---
Levels
The approved program will cover the points that you need to master in the upcoming high alpine season. This doesn't happen boringly in a theory room, rather directly in the terrain and with practice-oriented examples.
We try to make level groups so that we can respond to the different levels in the best possible way. During the camp we can make adjustments.
Starter
Mild
Geniesser
Spicy
---
Team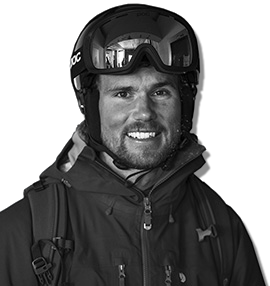 Dani Perret
"Skiing in the adventure area means a lot to me. With some imagination and the right skills, you can experience something in all conditions. Thanks to rope & skins, you can reach slopes and gullies that will make your heart beat faster."
Dani was born and raised in the same area as Piers. The adventure in the mountains attracted him already as a child and teenager again and again to lonely and secluded terrain. He feels at home on skis, mountain-, climbing- or trailrunning shoes, in all disciplines. The focus is not so much on relative performance, but rather on lasting experiences with the highest possible level of safety.
Dani is a full-time mountain guide in winter as well as summer, stationed in Engelberg. Again and again he discovers the Engelberg valley and the surrounding areas in the Alps with new eyes and is happy to share his newly gained ideas with you.
www.mountainguide-dani.com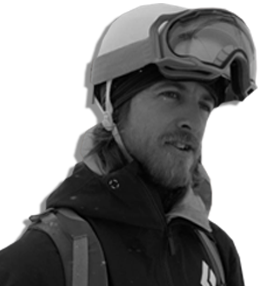 Robert Lönnell
"Robert Lönnell a Swedish IFMGA / UIAGM / IVBV mountain guide. He has lived in Engelberg with his family since 2009."
Robert started skiing at a young age and after finishing school he was ready to leave Sweden and start exploring different mountains and terrain.
After 10 years of travelling to different places such as Chamonix, Tirol, Canada and more he came to Engelberg in 2009 and decided to turn his passion for the mountains into a career.
He now works full time as a professional IFMGA Mountain Guide.
Skiing powder, climbing walls or guiding you up your dream peak. He is always happy to take you out in to the mountains.
---
Location
Spannorthütte
Tierberglihütte
Sustlihütte
Kröntenhütte
Weissmiesshütte
---
Material

General equipment
Medium sized backpack (35-40 liters) // sturdy, waterproof mountain boots (crampon proof) // headlamp //  pocket knife //  Half fare card // ID card SAC, DAV (if member) //  possibly personal medication // small pharmacy
Technical equipment for alpine tours
Ice axe //  Crampons with anti-stoll // climbing harness // 5 HMS carabiners // ATC (abseiling device) //  2x sling 120cm // Prusik (for abseiling) // cords 6mm (4-5m) //  helmet (bicycle helmet also okay) // if available express sets, slings, 50m single rope
Clothing
Long, weatherproof pants // weatherproof jacket // cap/headband // thin gloves // spare gloves // thermal underwear (if cold weather is reported) //  possibly rain pants to pull over (if cold, wet weather reported) // socks (1x spare)* // Spare underwear for hut*
Miscellaneous
Sunglasses // thermos bottle / water bottle // light daily provisions *//  Toiletries * // Silk inner sleeping bag (COVID-19 mandatory)
Optional
Camera // area maps // reading material
Are you missing something? You can easily rent it from us but you must inform us.
Rental equipment
Crampons 30.-
ice axe 30.-
Mountaineering helmet 20.-
Climbing harness + ATC, slings, carabiners 30.-
Catering
It is essential to take only a small amount of snacks with you. Provisions can be supplemented at the hut.
---
FAQ
What do I need for requirements?
Good fitness, surefootedness and hiking experience are prerequisites for this camp. No fear of heights and some climbing experience are an advantage. Ascents of about 1200 meters in altitude are within your discretion.
Can I rent equipment?
You can rent all material, but you have to inform us in advance!
Are the camps also in English?
The camps are held in both languages.
What happens in case of bad weather?
In case of bad weather we will look for an alternative and possibly change the location. If the weather is a bit changeable, we will sometimes be out in the wet. If unacceptable weather is forecast, the camp will be held on another date. If you are unable to attend, you will receive a credit.
---
Huts
We will spend the night in a SAC hut. If you have special food wishes (vegetarian or similar, please inform the hut directly in advance).
Life in a hut is very simple. It has no shower but running glacier water!
---
Kontakt
Mountain Camps Engelberg
c/o Dani Perret
Schweizerhausstrasse 100
6390 Engelberg
ski@pre-season.camp
+41 79 513 16 56
---
07.06. - 09.06.2024