Information
Philosophy // Program // Levels // Team // Location // FAQ // Overnight stay // Contakt
---
Philosophy
We, as mountain guides, are at your disposal as "coaches" and help you to decide and carry out the plans you have made. This means that not only we, but also you lead the way!
With tips and tricks we will raise your already good level and experience great adventures together!
⇑ top

---
Programm
The conditions during early season can vary. Therefor also our program during the camp. The participant can look forward to a safe and high-quality program regardless of weather and snow conditions. We want to create an optimal learning climate where everyone can contribute their experiences. The team of mountain guides are very motivated to pass on their own experiences to you in a good way. The participants' experiences and knowledge from the mountains also give us all additional opportunities to develop even more.
The passion for nature and skiing connects us all and we want to focus on the community of snow sports during these three days.
Crossing Bächenstock, Glattfirn, Schlossberglück
Looooong descent to Engelberg
Training focus:
Glacier
Short rope / Micor SL (basics)
Ridge scrambling
Efficient occurrence
Navigation in the terrain
Application!
Ascent to the Grassengrat. Possible summits Stössenstock, Murmelsplanggstock.
Descent to Chlialptal.
Ascent in the opposite direction to the Seewenhütte.
Delicious beer. The hut is open.
Training focus:
Climbing and rope handling on easy ridge.
Use of ice axe & crampons
Hardware
Further wish topics workshops at hut (e.g. pulley, rescue etc.)
Friday morning with the gondola to the Titlis. 3029 m.a.s.l. First part of the well-known Titlis round trip.
Descent via Steinberg glacier to the "Hinteres Titlisjoch". Scrambling over the "Messer".
Abseiling over the two couloirs of the Titlis round tour.
From Schwarze Berg (2100 m.a.s.l.) ascent over the Wenden glacier to Grassenjoch (2731).
Nice descent towards Sustenbrüggli.
Ascent to the Sustlihütte (2256).
Here we cater for ourselves in the winter room.
Training focus:
Rope handling
Track system ascent
Descent
Route finding
Tour planning
---
Levels
The Big Mountain Camp is not for beginners. You must already have experience in the mountains to build on this.
In order to adapt the programme as well as possible to your level, we form level groups in which we spend the days on the road.
Geniesser
Spicy
Könner
Hot
Freakshow
Hell
---
Team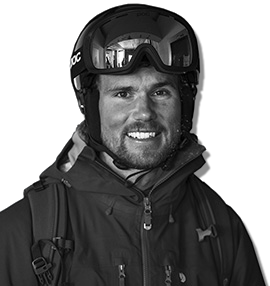 Dani Perret
"Skiing in the adventure area means a lot to me. With some imagination and the right skills, you can experience something in all conditions. Thanks to rope & skins, you can reach slopes and gullies that will make your heart beat faster."
Dani was born and raised in the same area as Piers. The adventure in the mountains attracted him already as a child and teenager again and again to lonely and secluded terrain. He feels at home on skis, mountain-, climbing- or trailrunning shoes, in all disciplines. The focus is not so much on relative performance, but rather on lasting experiences with the highest possible level of safety.
Dani is a full-time mountain guide in winter as well as summer, stationed in Engelberg. Again and again he discovers the Engelberg valley and the surrounding areas in the Alps with new eyes and is happy to share his newly gained ideas with you.
www.mountainguide-dani.com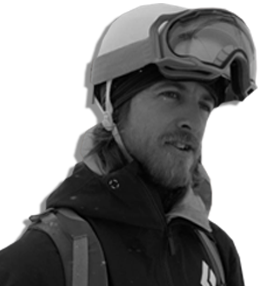 Robert Lönnell
"Robert Lönnell a Swedish IFMGA / UIAGM / IVBV mountain guide. He has lived in Engelberg with his family since 2009."
Robert started skiing at a young age and after finishing school he was ready to leave Sweden and start exploring different mountains and terrain.
After 10 years of travelling to different places such as Chamonix, Tirol, Canada and more he came to Engelberg in 2009 and decided to turn his passion for the mountains into a career.
He now works full time as a professional IFMGA Mountain Guide.
Skiing powder, climbing walls or guiding you up your dream peak. He is always happy to take you out in to the mountains.
---
Location
If the weather is good and the avalanche situation is suitable, we leave the ski area. We are on the way behind the Titlis in the "open terrain". Of course we need the touring skis for this.

---
FAQ
What are the requirements for me?
The camp is not designed for freeride or ski touring beginners. You must have experience in these areas, be solid on skis or snowboard and have a good basic level of fitness. We will make different groups according to levels in the different training blocks. This way you can later place yourself (via self-assessment form) and with a mountain guide in a group that suits you. Are you already a very strong tourer, freerider or alpinist? Then please let us know in the registration form so that we can assign you to the right group. (or later by self-assessment form)
Can I also participate as a snowboarder?
Yes, if you have a splitboard, that's a good idea.
How do I organise the overnight stay?
We stay overnight in cabins. This is organised but not included in the price. Please let us know if you are vegetarian or similar.
What if the weather is bad or there is no snow?
We use to have a Plan B in that case. If it is super bad and dangerouse, we have to may shorten it down.
---
Overnight stay
Possible overnight stays
Sustli hut
Grassen bivouac
Sewenhütte
Engelberg Youth Hostel
---
Contakt
Mountain Camps Engelberg
c/o Dani Perret
Schweizerhausstrasse 100
6390 Engelberg
ski@pre-season.camp
+41 79 513 16 56