Info
Philosophie // Program // Team // Location // Accomondation
---
Philosophie
More female power in the mountains!
Women only, girls only, ladies only – What ever! The approved coaching camps for like-minded women.
During these days the women show where it goes!
Often women can learn and apply better amongst themselves, "without men". In a small group you can grow and improve your self-confidence with other women. With modern training content we want to advance your existing knowledge and skills.
⇑ top

---
Program
The program of the camps is designed to motivate and train you to be independent on tours!
Ski touring & Freeride Camp
The program is designed for ski tourers and freeriders. Thanks to the level system and 3-5 different groups, there is something for all levels.
Avalanche training & companion rescue / first aid
If things go wrong, we want to be prepared for an extreme situation. Do you have your avalanche transceiver fully under control and are you fast enough even under stress? Do you also function in complex situations under time pressure?
Every situation brings individual problems with it. That's where we focus and train you in the best possible way.
Duration: ½ day plus evening course
Direction: Mountain guide IVBV & Ski patroller
Companion rescue
Search, probing, shoveling
Multiple burial
First aid for freeriders / ski tourers with ski patroller
Minor accidents
Assistance avalanche accidents
As the name suggests, the Pre-Season Camp takes place in the pre-season. The weather, the conditions and the amount of snow is not always optimal. If the ski area should remain closed because of e.g. storm, heavy snowfall or even too little snow, we offer you alternative possibilities in the valley to be optimally prepared for the upcoming winter season.
Duration: As little as possible, as much as necessary.
Direction: Mountain guide and specialists for this purpose
Multiple burial LVS
Rope handling
Knots
Equipment
Rope shortening
Rope maneuver
Abseiling
Self ascent
Crevasse rescue
Improvised rescues
"Trouble shooting" on the mountain
First aid
Snowpack structure, snow crystals etc.
Ski Mountaineering / Adventure Skiing
In a real freeride area like Titlis, you need the right skills to get from the classic runs to the adventure terrain. Often you have to "scramble" a bit in short places or abseil into a gully/couloir. This is not only to get to the good snow, but it is an experience in itself.
Duration: 1 day
Direction: Mountain guide IVBV
Training block "Rope & More" based on different situations
Equipment
Knots
Abseiling normal & improvised
Anchorages in rock, ice and snow
Ski skills 40° plus
Assessment special case couloirs
Safe skiing in steep terrain
Jumpturns
Sliding sideways, spit turns etc.
Small application tour with e.g. abseiling into a couloir
The conditions for such terrain must be suitable!
On a small application tour we deepen your alpine ski technique in the ascent and descent in challenging terrain. Because good skiing and solid accenting mean also safety! Sometimes it takes only a few small tips to achieve a great result.
Duration: ½ day
Direction: Mountain guide IVBV
Sicherheit & Taktik in steilem / schwierigem Gelände

 

(Spitzkehren, Seitwärts Abrutschen, Ski anziehen in steilem Gelände)
Technik Aufstieg
(Kick-Truns, Spitzkehren mit Fellen, Handling Felle & Harsteisen, effizienter Wechsel, Bootpacking, etc.)

Mountaineering Camp
The great adventure in the High Mountains. Here we train you so that you can go on private high tours with a lot of self-confidence and a deepened knowledge.

Mountaineering Camp – Rock
After the approach to a suitable terrain (near an SAC hut), we do education on the rock. Whether you are already climbing or "just" hiking, there is something for everyone.
Duration: 1 day
Direction: Mountain guide IVBV
Climbing technique
Knot skills
Belay technique
Rope handling
Abseiling
Set up of belay stations
Mountaineering Camp – Glacier & Snow
On high alpine tours you are often on the glacier. This is a breathtaking landscape, but you should pay attention to some points to not mess up.
Roping on the glacier
Anchorages in firn and ice
Use of ice axe and crampons
Short application tour
"If something goes wrong"In the evening while having a beer or similar we will do a short theoretical training.
Tour planning
Map reading
Mountaineering Camp – Application Tour
Now we implement what we have learned and climb a peak together. Here you will be independent in rope teams and benefit from tips & tricks directly in the terrain. The focus is not on a difficult summit, but on independent thinking and doing.
Tour planning
Tactics on the way
When do I use where, which rope?
Glacier rope, short rope, micro pitches, pitches
Belay points
Summit success 😉
Descents and abseiling

---
Team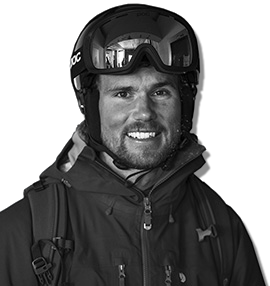 Dani Perret
"Skiing in the adventure area means a lot to me. With some imagination and the right skills, you can experience something in all conditions. Thanks to rope & skins, you can reach slopes and gullies that will make your heart beat faster."
Dani was born and raised in the same area as Piers. The adventure in the mountains attracted him already as a child and teenager again and again to lonely and secluded terrain. He feels at home on skis, mountain-, climbing- or trailrunning shoes, in all disciplines. The focus is not so much on relative performance, but rather on lasting experiences with the highest possible level of safety.
Dani is a full-time mountain guide in winter as well as summer, stationed in Engelberg. Again and again he discovers the Engelberg valley and the surrounding areas in the Alps with new eyes and is happy to share his newly gained ideas with you.
www.mountainguide-dani.com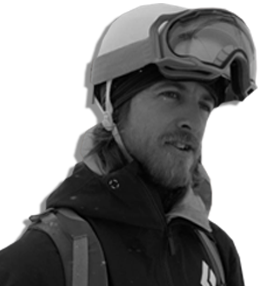 Robert Lönnell
"Robert Lönnell a Swedish IFMGA / UIAGM / IVBV mountain guide. He has lived in Engelberg with his family since 2009."
Robert started skiing at a young age and after finishing school he was ready to leave Sweden and start exploring different mountains and terrain.
After 10 years of travelling to different places such as Chamonix, Tirol, Canada and more he came to Engelberg in 2009 and decided to turn his passion for the mountains into a career.
He now works full time as a professional IFMGA Mountain Guide.
Skiing powder, climbing walls or guiding you up your dream peak. He is always happy to take you out in to the mountains.
Andrea Lorenz
"I am in the lucky situation and was allowed to make my hobby my profession. I am happy to be able to show my guests our beautiful mountain world as a mountain guide and snow sports instructor."
Education: Swiss certified mountain guide IVBV // Snowsport instructor
Company: AlpinMaus.ch
Angi Weibel
For me, being in the mountains means living in the here and now. Nowhere else do I find so much peace and satisfaction. Focused on the next step or the next move.
I discover the mountains anew every day. Storm-tossed peaks, big rock faces and powder descents are my whole fascination."
Education: Swiss certified mountain guide IVBV // J&S trainer
Company: Angela Weibel Guide
---
Location
The Women Only Freeride and Ski Touring Camp takes place in the Engelberg Valley.
The Women Only high altitude touring camp in one of the SAC huts around Engelberg. Every year a little bit different.
Engelberg is very easy to reach by public transport as well as by car. Welcome to Engelberg!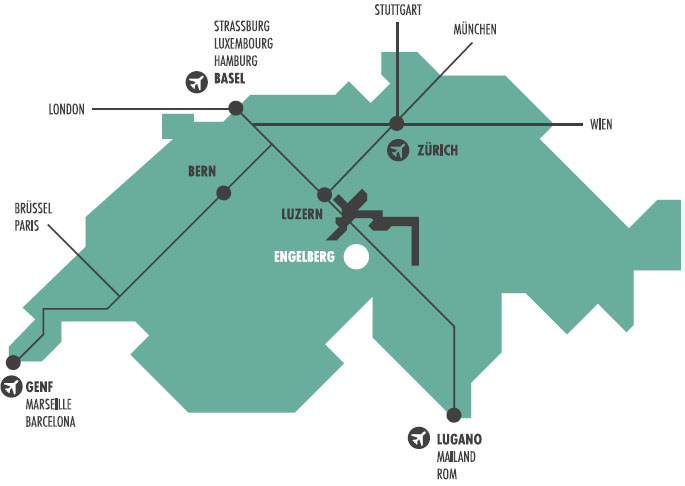 ---
Accomondation
Freeride- & Skitourencamp
In the winter version, everyone is responsible for their own overnight stay. I.e. if you live nearby, you can go home in the evening. If you are with us for several days (and of course we hope you are) and you don't sleep in your bus, we can make some suggestions:
Jugendherberge: Very cheap solution for the smaller budget. We are almost not in a hotel anyway…
Ski Lodge: The place to be. Where ski pro's and mountain guides say good night to each other
Terrasse: Grandiose view over Engelberg. Bed & Ski in the package
Crystal: Family hotel in the heart of Engelberg
Engelberg: Historic hotel, cool hosts, in the middle of the village street
GRAND Hostel&Bar: Great value for money.
We don't have a deal with any of these hotels. We just think they are good. But there are certainly others.

Hochtouren Camp
At the high tour camp we sleep in a SAC hut. The overnight stay incl. half board is already organized and booked by us in advance. (If you have special food wishes (vegetarian or similar, please inform the hut directly in advance).
Life in a hut is very simple and beautiful. It has no shower but running glacier water!
Possibilities (varies depending on the year):
Spannorthütte
Kröntenhütte
Tierberglihut
Sustli hut